Happy Monday folks! How're we doing?! So as well as music, I am also a MASSIVE movies fan! And I thought I would do a rundown of my top 5 favourite films to watch on a lazy Sunday!
5. Coyote Ugly
Okay so this is a new addition to my life and I DON'T EVEN KNOW HOW! Last year I decided to watch it for the first time after seeing someone talk about it online and OH MY GOD! I loved it instantly. The storyline is amazing, the characters are hilarious. I laugh, cry, feel jealous, want a relationship all in one film! There are no faults to this film. I love it so much!!
4. Mamma Mia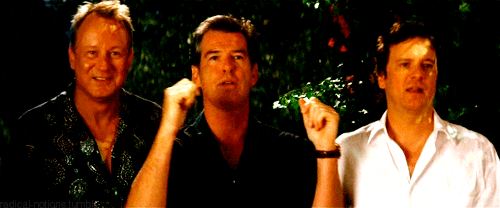 This film is absolutely effing hilarious! I love it so goddamn much! I cannot WAIT for the new one this year!!! These three: Bill, Sam and Harry are so hilarious. The storyline is so heartfelt, funny and it's such a good Sunday film! I love Donna and Meryl Streep is an AMAZING singer!! This is such a good feel good film and I love watching it and singing along.
3. Letters To Juliet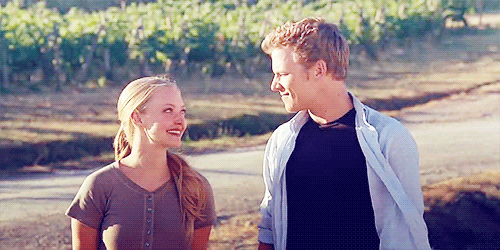 THIS GODDAMN FILM! I fucking squee whenever I watch this film! I watched this in the cinema with my mum and I instantly fell in love with it. The soundtrack is amazing, the storyline is so fucking good and the characters are hilarious. Honestly, there's no fault to this film. It's so fucking cute and I highly recommend it.
2. Notting Hill
I have watched this film since I was really young, and that scene in the above gif gets me every time! Julia Roberts is a surreal (pun intended) actress. There's literally nothing she can't play. This film is also hilarious and the perfect chic flick to watch any day and any time of the day. Hugh Grant is amazing, Julia Roberts is amazing. The story between them is amazing and ugh!! I fucking love this film. It's probably my go-to film these days (because mum refuses to let me watch number 1). Seriously though, if you haven't watched it. One; what is wrong with you?! Two; go watch it!!!
1. Bridget Jones Diary

So this film is basically a look into my future. That will be me: a 30 year old spinster, still getting absolutely hammered on wine every night, not being able to control my potty mouth and failing at all things love. This film is my favourite. Bridget Jones is such a relatable character - you know she is! And oh my effing god: MARK. DARCY!! 😍 He has been my dream man, and I have been in love with him since the first time I watched this film many, MANY years ago. This film began my love for Colin Firth. Honestly though, the films are amazing, but the first one will always be my favourite. I might be able to practically quote the entire film, but who cares?! I love it and if you somehow haven't watched this film; do it. And watch the other two also.
So here's a rundown of my top 5 fave films of all time! Let me know in the comments what yours are. 😄
Read More