For the longest time, I've said that Bridget Jones was an autobiography on my own life. But only in certain senses. Her personality and mannerisms are definitely me down to a tee, however I'm not actually as lucky as Miss Jones in the dating department. She (in the films) had two men after her at the same time. Mate, I'd be lucky if I had one. HA! Which is clearly laughable.
For as long as I can remember, I've always dreamed of having a man like Mark Darcy. He was the typical tall, dark and handsome that every girl always goes on about, at some point in her life. In Bridget Jones Diary, he's very serious, he's got a very good poker face and he likes her. Just as she is. (Which come on - YOU WOULD DIE IF SOMEONE SAID THAT TO YOU!!!)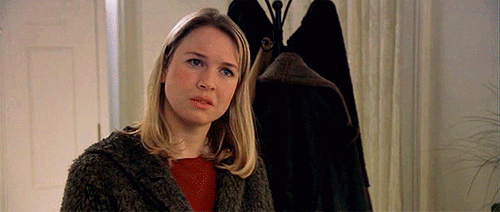 Bridget in the bottom gif would be my face as well!! Imagine?! I would fucking die! However, I've never been lucky enough to be in this kind of scenario where not just 1 but even 2 guys are fighting for my affection. (Albeit, Daniel Cleaver's ego has been shattered and only wants Bridget back just for shagging purposes. He never liked her fully, let's be real!)
Basically ever since I was young, I always compare guys that I like to either a Mark Darcy or a Daniel Cleaver status in my head. If you're a Daniel; you're not worth my time, you're going to fuck me over and it'll last for a mere 5 minutes. However, if you're a Mark; even if I find you infuriating there's something about you that keeps you in my head, and I have a soft spot for you.
Myself and my friend Danielle, use this analogy regularly. Especially recently when I was struggling to decide which of two boys to focus my attention on. (Please can we laugh at this, because neither were worth it and I'm a fucking idiot!) But the analogy nonetheless, does help me see things from a more realistic prospective. And that usually leads to any guy that I begin to like, last only a mere week in my head, before their true colours come out.
If I'm being honest, I think that's why I find online dating so difficult. Because it's like, how do I figure out if you're a Mark Darcy or a Daniel Cleaver from text messages?! Also, my absolute favourite thing, is that two guys in my life have started off as a Mark Darcy, and ended up being a Daniel Cleaver in the end . Which is actually rather annoying. But hey ho! Thanks for finally showing your true colours, boys.